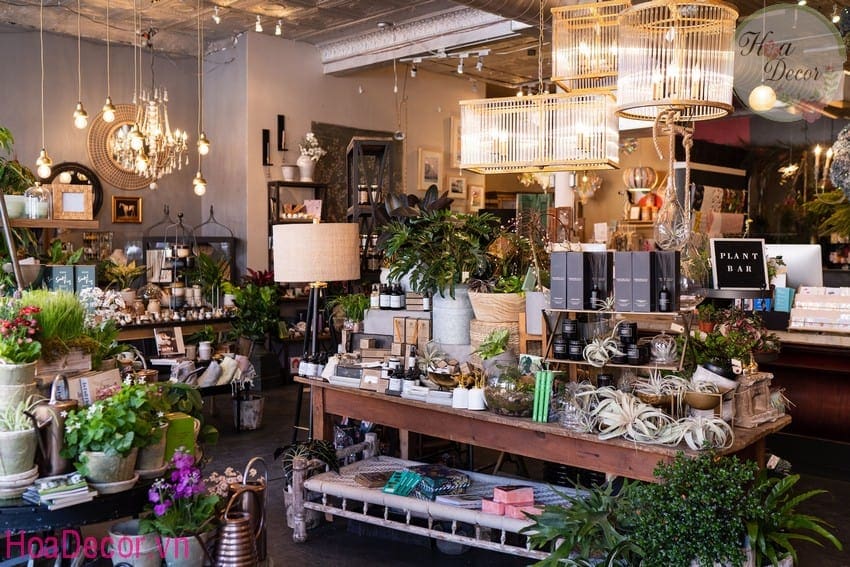 Where to buy cheap Artificial flowers in Hanoi? Which fake flower shop in Hanoi is reputable? Address of Artificial flower shop in Hanoi. These are the questions that cause many people a headache because recently, artificial flowers are very popular as decoration for living space. Let's answer all of the above answers.
2023 and then choose Artificial flowers
Artificial flowers and plants are a great way to spruce up your home! You'll never need to remember to take care of them, and some even look better than real flowers if they're done with care. However, it can be quite challenging to choose the best artificial flowers – from choosing the actual material and style, to matching the plant with your existing décor, there is so much to consider. review.
>>>> See more: Silk , Fake Plants Shop – Artificial Tree Shop Hanoi
How to choose to buy Artificial Flowers
Choosing artificial flowers is not always easy as they come in so many varieties and are made from many different materials, all of which have their own pros and cons. Artificial flowers can vary greatly in price, mainly depending on the quality of the raw materials used and the process in which they are manufactured. Producing artificial flowers is labor intensive and they are mainly imported from China.
When buying artificial flowers, think about the stem, which plays an important role in how realistic the flower looks. All artificial flowers have wire stems, their silk flowers and rubber resin are coated with resin while foam flowers have coiled wire stems and look better when placed among other flowers where the stem can be hidden.
>>> View now : Products at Flower Decor Store : Vase , fake plants, Silk Flowers , Decorative Plants
Types of fake flowers
The tradition of making silk flowers dates back hundreds of years and is believed to have started in China but it was not until the 12th century that this knowledge was passed on to Italy and developed into a business.
Silk flowers can look very real and are my go-to choice when it comes to design and have always been a very popular choice for the reason they can look so real. Although some good quality silk flowers can be more expensive than fresh flowers, this does not discourage you, they last a lot longer!
In fact, silk flowers today are often not made from silk but from a variety of polyester rayon or cotton fabrics allowing manufacturers to use specialized dyes and heat treatments to create details such as leaf veins and petals. . The stems also vary greatly in their actual form and range from basic dark green thin stems which are fine if you plan to use them in some places where the stems are not visible, to the trunks. more realistic fleshy plants, some stems have a herd applied such as gerbera, roses may have thorns so they better mimic lush flowers.
>> View now : +99 Patterns of  Artificia Flower Vase – Beautiful and Cheap Table Flower Vase
Silk flower
Most of the fabric flowers we buy start out as just plain white rayon and polyester fabrics, dyed and cut into basic petal shapes, which are then fed into a mold where heat is applied. to create more realistic shapes or shapes, they can then be made by hand. finished adding more details and colors
As with some of the artificial flowers produced today, coatings such as cotton or wax are applied, look at our velvet red roses they look very attractive and like a deep red rose Fresh also has a natural silky texture.
One of the downsides of silk flowers like all fabrics is their tendency to fray although this is not a big deal due to the heat applied during the manufacturing process and any fraying is usually minimal.
Silk flowers come in so many varieties and shades that they are well worth considering as an alternative to fresh flowers.
>> See now : +199 Fake Flowers – Silk Flowers – Cheap Beautiful Decorative Flowers
Rubber flowers
Rubber flowers are produced from molds taking plants and live flowers, rubber flowers are then made from these, which means they are very lifelike. Because the latex is a liquid, it accentuates the veins on the petals and the uneven contours of the flower. The idea as with all artificial flowers is to make them look as real as possible, free from defects and all, they are often described by suppliers as real touch or fresh touch but this is not the name. commercial for rubber flowers and it belongs to the individual flower manufacturers they label as real touch.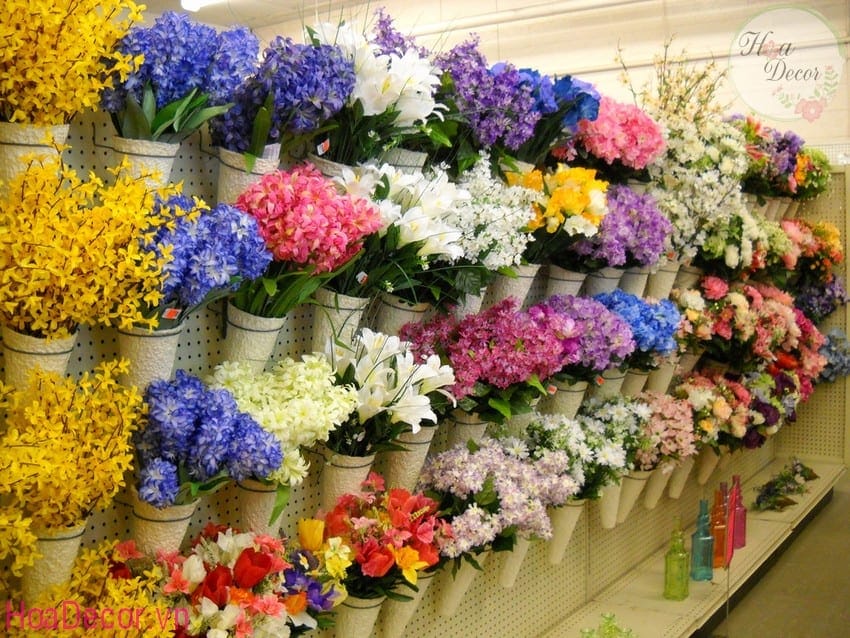 They often have thick petals and realistic stems, so look most convincing when made to resemble a fresh flower that also has fleshy petals. A limited number is usually available, but you will find lilies, oriental lilies, orchids and roses and will have to search a little harder for other varieties although they are becoming available. than.
Note: this flower is not suitable for use in bouquets for people with latex allergies
Foam flower
Styrofoam flowers come in a variety of colors, the most you will find are usually roses although our supplier also offers carnations, peonies and lilies, roses in sizes from 2cm to 10cm roses. , they have a corded and glued body. and without foliage, as with all artificial flowers and leaf quality may vary.
When styrofoam flowers first appeared on the market, they were not always as durable as most are now. but worth checking when buying, especially if using in bridal design because the last thing you want is a stain on your best outfit.
Personally I think they are best used mixed with other flowers like silk to help conceal the stem as they are not the most attractive and certainly not practical at all, they are a very popular choice for buttons and easy to work with. So if you've never worked with artificial or fresh flowers before they're a good option, just make sure you hide the flower spikes or tie them with ribbons if you want to dress up a wedding bouquet. .
>> Watch now : +40 Models of Fake Trees – Decor Trees – Cheap and Beautiful Decorative Plants
Plastic flower
Plastic flowers are often combined with the basic morning glory that you find on some memorial wreaths around Christmas, there is a place for them and they are perfect for outside use but they are definitely lacking. Actual stocks and we do not provide or use them in arrangements or bouquets
However, we do stock a wide range of quality resin foliage and some carefully selected small flowers but we reserve this stock for flowers such as lily of the Valley, grape hyacinth and alliums, texture is very important and really contributes to the realism of any flower, smaller clusters work best and look the most realistic as they can be made with more detail than possible achieved with silk flowers in general, resin is also a good choice if natural flowers have a smooth or waxy appearance where resin also gives a more realistic appearance than standard silk alternatives with layers matte finish.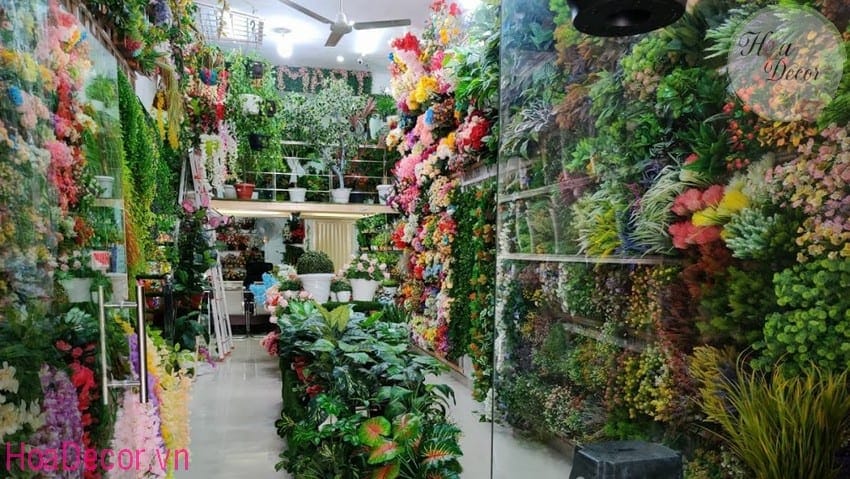 The better quality plastic flowers will also have silk leaves, plus some mulched foliage such as a swarm that works well for asparagus ferns and foliage such as the silver duster that has a smooth surface. hairy face.
Plastic flowers and foliage have come a long way over the past few years and should not be overlooked, Don't use them as focal flowers are the best fillers that add texture to any design
Buy fake flowers in Hanoi
If you are wondering where to buy cheap fake flowers in Hanoi but still beautiful, then Hoa Decor is the perfect choice for you. Hoa Decor is a unit with many years of operation, not only providing customers with beautiful vases and fake flowers, but also extremely rich and highly appreciated by customers.
Address selling fake flowers in Hanoi
Not only that, there are also countless samples of quality flower vases, vases, artificial plants. It is thanks to this variety of products that Hoa Decor is increasingly receiving the love and trust of customers, as well as day by day affirming its great position in the market, helping you answer buying questions. Where are fake flowers cheap in Hanoi?
If you need to buy fake flowers in Hanoi, contact Hoa Decor immediately
Website: https://hoadecor.vn/
SDT:+84 3 555 666 07
Store address: Ground Floor, SH2-05 Binh Minh Garden, Duc Giang, Long Bien, Hanoi
Street selling fake flowers in Hanoi
Many people still say that going to the old town to buy fake flowers, the flower street in Hanoi sells silk flowers, fake flowers are very cheap. But in fact, here they mainly wholesale in bulk. Because to keep the listed price stable for silk flower wholesalers, they sell quite hard. Some even sell for a higher price than the ground.
>> View now: +50 Beautiful and Cheap Bat Trang Ceramic Flower Vase
Should I go to the street to buy fake flowers?
As mentioned above, if you are not familiar with the price, I recommend you to buy fake flowers at stores selling fake flowers, silk flowers or silk flower websites. But going to the flower street, I ate a donkey like a fool.
Moreover, because these fake flower shops specialize in selling to retail customers like us, they advise extremely enthusiastically and understand customers, but the "sold like chase" type, just go to the street to buy fake flowers and see immediately.
Above, Hoa Decor has helped you answer the question of where to buy fake flowers cheap in Hanoi but still beautiful? Hopefully, through the last sharing, you will choose for yourself a reputable fake flower seller in Hanoi. Do not forget to leave comments through the comment section below, we look forward to receiving your feedback.
If you are still wondering about choosing to buy Artificial flowers instead of real flowers, please refer to the reasons below.
>> You want to buy artificial flowers – call now 0978873303
Should I buy  Artificial flowers for decoration?
Artificial flowers are a great accessory that anyone can use to bring some greenery and life into their home, people have been using silk to make fake flowers for about 1,500 years. From small cactus to large plants, there are many ways that can be used to make your home look fuller, fresher and brighter. Let's take a look at some of the benefits of growing artificial flowers in your home.
1.Artificial flowers are durable with time
Artificial flowers, whether they are trees, stems, branches or shrubs will never wilt or droop and will look real and lovely for years to come. They are very long lasting so you can enjoy them without any added stress.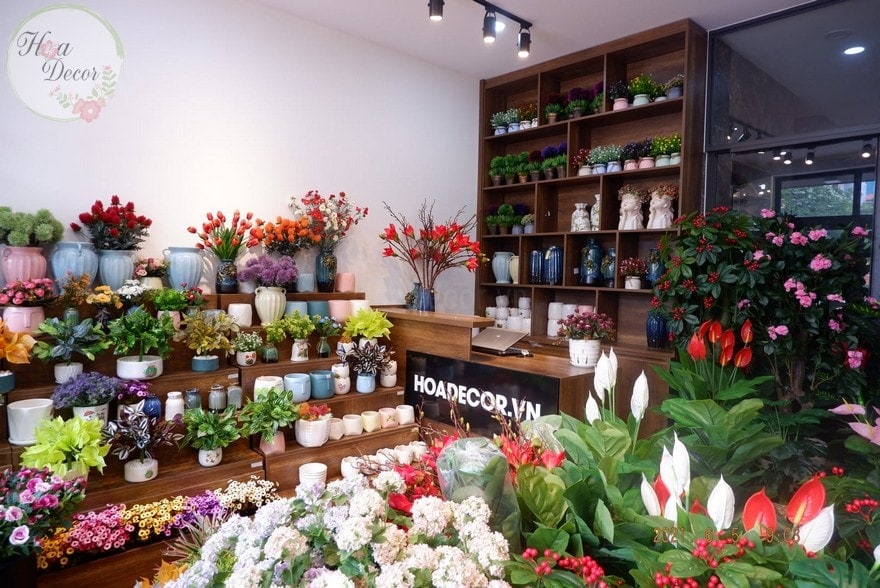 2. Fake flowers are hypoallergenic
Silk flowers are the perfect choice if you have hay fever or any other health problems caused by pollen or perfume. You won't have to worry about any guests possibly having allergies and can enjoy your flower or plant arrangements without restriction.
3. Artificial flowers need no care
One of the main reasons we love artificial flowers is because you don't have to worry about their maintenance, from watering them daily to planting them in a pot, you can sit back and relax. They can pick up dust from time to time, but cleaning Sophie Allport's fake flowers is easy, just wipe with a dry cloth.
4. Artificial flowers are available all year round
If you love peonies then you know you only have a short period of time from late spring to early summer, but with these artificial flowers you'll be able to enjoy your favorite blooms all around. year. From our garden tulips to white garden roses, we have a wide range of stems, sprays and foliage for you to create your favorite flower arrangements that last. You can even combine them weekly or monthly to create a new look for your home.
5. Artificial flowers can be reused after decoration
If you're looking for wedding flowers, artificial flowers are a great choice as they look realistic and will last for years to come, something you can really cherish. You can change their purpose to create a special artificial flower arrangement from your bouquet to center in your entryway, that way every time you come home you will be Reminder of your special day.
6. Be creative with Artificial Flowers
We love the fact that you can mix your flowers at any time with artificial flower spikes and aerosols. If you want to swap your roses for peonies, then you absolutely can and I'm sure you can find somewhere else or use your artificial roses, can use them on the table or Hang around the door frame to create a pretty rose arch.
7. Extremely friendly Artificial flowers
If you are a dog or cat owner then you probably know that there are some plants and flowers that are extremely toxic to your beloved pets, which is why artificial flowers can be an alternative. wonderful. They still look real, but you can rest easy knowing they won't harm your furry friends
Have you seen Hoa Decor's new Artificial flower collection yet? We have a wide range of leaves and flowers for you to choose from. Take a look and buy now to receive attractive offers.
>> You want to buy artificial flowers – call now 0978873303